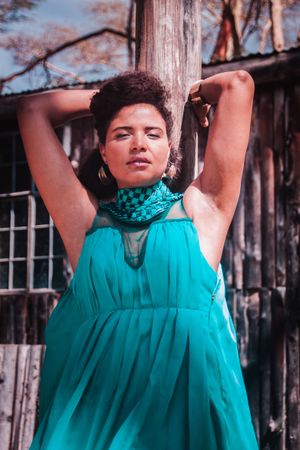 Biography
Who is Syssi Mananga?
Call me mopepe mama
My mom is Congolese. My dad is Belgian. With a cultural identity split between Africa and Europe, my music is like the wind (mopepe in Lingala) cross-bordered and fluid. It can't be caged in or boxed in a single genre. Reflecting my mixed heritage, my musical signature is a fusion of styles, at the crossroads of Kongo rhythms, folk, jazz and pop. As a singer-songwriter, my songs are in Lingala, French and English. It is said of me that I have a voice that is both powerful and captivating which "carries away everything in its path", like the wind.  This is why my friends call me "Mopepe Mama", which is the nickname I chose for the title of my new album which will be released in April 2021.
Besides being a musician, I work in development in Africa. In my songs, I tell stories inspired by my encounters in the professional field: from the absurdity of war seen through the eyes of a child soldier, to the daily struggle of a fisherman to provide for the needs of his children, to the importance of protecting our environment.
My first album "Retour aux Sources" (i.e. Back to Roots) was released in 2013. The flagship title of this album was Tala Ngai which was awarded by the Couleurs Talent Competition of Radio France Internationale (RFI). Subsequently, my career evolved with single releases, collaborations, and beautiful concerts which earned me nominations in the category of Best Female Artist of Central Africa in international music awards (Kora Awards and Afrima Awards in 2016, AFRIMMA Awards in 2017, Tam Tam d'Or of the Decade in 2017) and awards for best songs (Tam Tam D'Or for Ndjele in 2013, Beatstreet Award in 2017 for Chéri; Beyond Music Creativity Award (Tina Turner Foundation) for Matumaini in 2019). This year again, the song Nawe, second single from the album Mopepe Mama to come in April 2021 is in the semi-finals of the International Songwriting Contest whose jury is made up of celebrities such as Cold Play, Tom Waits, Dua Lipa and Laura Pausini.
My new album "Mopepe Mama" is an opus of 12 tracks, all infused with my acoustic and blended musical savor. It will be released in April 2021. Until then, we will be releasing a single each month. For this album, I collaborated with virtuoso musicians from the World Music and international scenes, notably Japanese trumpeter  Shunzo Ohno (Grammy Award Winner), Brazilian guitarist  Swami Jr (Latin Grammy Award Winner), Congolese guitarist  Chris Bakalanga (Freshlyground), South African bassist Shaun Johannes, Ugandan rapper  Keya Nemesis (twice MTV Base Music Awards Nominee) and Swiss flutist Sandro Friedrich (soundtrack from the movie "Lord of the Rings"). The album is mixed in Cape Town by percussionist and arranger  Ronan M. Skillen.