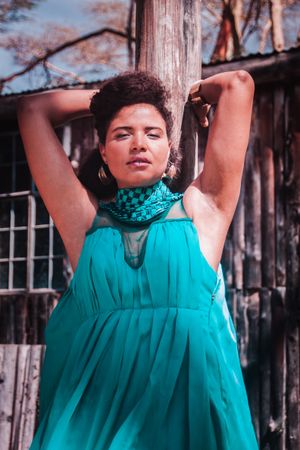 Biography
Who is Syssi Mananga?
Syssi Mananga is an accomplished figure in World Music. Born to a Congolese mother and a Belgian father, she has emerged as a talented singer, songwriter, and performer, captivating audiences with her unique sound and powerful vocals.
With a cultural identity split between Africa and Europe, her music is like the wind (mopepe in Lingala) cross-bordered and fluid. It can't be caged in or boxed in a single genre. Reflecting her mixed heritage, her musical signature is a fusion of styles, at the crossroads of Kongo rhythms, jazz, folk and pop.
As an artist, Syssi's talent and dedication have led to numerous achievements and international recognitions. Her captivating voice and stage presence have earned her performances at prestigious venues and festivals, allowing her to showcase her skills to diverse audiences around the world.
One of the defining aspects of Syssi's music is its ability to convey powerful messages. Her songs often touch upon themes of empowerment, social justice, nature preservation, and spirituality. Through her lyrics, she addresses important issues such as gender equality, political unrest, and the African diaspora's struggles. Syssi's music serves as a medium to raise awareness and inspire change, encouraging her listeners to reflect on societal challenges and work towards a better future.
Collaboration is another key aspect of Syssi's musical career. She has worked alongside renowned artists, both within the African music scene and beyond. These collaborations have allowed her to explore new musical territories and fuse different styles, resulting in captivating and genre-defying tracks.
Syssi's first album "Retour aux Sources" (i.e. Back to Roots) was released in 2013. The flagship title of this album was Tala Ngai which was awarded by the Couleurs Talent Competition of Radio France Internationale (RFI). Syssi's second album "Mopepe Mama" (2021) was produced and released during the COVID-19 pandemic, in collaboration with virtuoso musicians from over 10 countries.
In addition to her musical pursuits, Syssi is deeply committed to using her platform to uplift others. She provides mentorship to aspiring musicians, sharing her knowledge and experiences to help them navigate the industry. Syssi believes in the power of music as a tool for social change and actively engages in philanthropic initiatives to support causes close to her heart. Syssi has organized and participated in benefit concerts, charity events, and workshops, leveraging her influence to raise funds for various causes and promote positive change.
Syssi Mananga currently leads a mostly female band based in Nairobi, Kenya. She is the recipient of the following awards and accolades:
2021 Winner Beyond Music
2020 Semi-finalist International Songwriting Contest
2019 Winner Beyond Music Project
2019 Winner Creativity Award Beyond Music
2017 Winner Beat Street Award
2017 AFRIMMA Nominee (Best Central Africa Female Artist)
2017 Tam Tam d'Or de la Décennie (Meilleure Chanson Métisse)
2016 Kora Award Nominee (Best Central Africa Female Artist
2016 AFRIMA Nominee (Best Central Africa Female Artist)
2014 Finalist Global Roskstar Contest (Africa)
2013 Winner Tam-Tam d'Or 2013 (Congo Music Award)
2012 Winner Contest Couleurs Talent de RFI 2012